Drunk Shakespeare Houston Tickets
| | | |
| --- | --- | --- |
| Drunk Shakespeare Houston, Texas at Emerald Theatre - Houston | 11/30/2023 19:30 | View Tickets |
| Drunk Shakespeare Houston, Texas at Emerald Theatre - Houston | 12/01/2023 19:00 | View Tickets |
| Drunk Shakespeare Houston, Texas at Emerald Theatre - Houston | 12/02/2023 19:00 | View Tickets |
| Drunk Shakespeare Houston, Texas at Emerald Theatre - Houston | 12/07/2023 19:30 | View Tickets |
| Drunk Shakespeare Houston, Texas at Emerald Theatre - Houston | 12/08/2023 19:00 | View Tickets |
| Drunk Shakespeare Houston, Texas at Emerald Theatre - Houston | 12/09/2023 19:00 | View Tickets |
| Drunk Shakespeare Houston, Texas at Emerald Theatre - Houston | 12/14/2023 19:30 | View Tickets |
| Drunk Shakespeare Houston, Texas at Emerald Theatre - Houston | 12/15/2023 19:00 | View Tickets |
| Drunk Shakespeare Houston, Texas at Emerald Theatre - Houston | 12/16/2023 19:00 | View Tickets |
| Drunk Shakespeare Houston, Texas at Emerald Theatre - Houston | 12/20/2023 19:30 | View Tickets |
| Drunk Shakespeare Houston, Texas at Emerald Theatre - Houston | 12/21/2023 19:30 | View Tickets |
| Drunk Shakespeare Houston, Texas at Emerald Theatre - Houston | 12/22/2023 19:00 | View Tickets |
| Drunk Shakespeare Houston, Texas at Emerald Theatre - Houston | 12/23/2023 19:00 | View Tickets |
| Drunk Shakespeare Houston, Texas at Emerald Theatre - Houston | 12/26/2023 19:00 | View Tickets |
| Drunk Shakespeare Houston, Texas at Emerald Theatre - Houston | 12/27/2023 19:00 | View Tickets |
| Drunk Shakespeare Houston, Texas at Emerald Theatre - Houston | 12/28/2023 19:00 | View Tickets |
| Drunk Shakespeare Houston, Texas at Emerald Theatre - Houston | 12/29/2023 19:00 | View Tickets |
| Drunk Shakespeare Houston, Texas at Emerald Theatre - Houston | 12/30/2023 19:00 | View Tickets |
| Drunk Shakespeare Houston, Texas at Emerald Theatre - Houston | 1/01/2024 19:00 | View Tickets |
| Drunk Shakespeare Houston, Texas at Emerald Theatre - Houston | 1/03/2024 19:30 | View Tickets |
| Drunk Shakespeare Houston, Texas at Emerald Theatre - Houston | 1/04/2024 19:30 | View Tickets |
| Drunk Shakespeare Houston, Texas at Emerald Theatre - Houston | 1/05/2024 19:00 | View Tickets |
| Drunk Shakespeare Houston, Texas at Emerald Theatre - Houston | 1/06/2024 19:00 | View Tickets |
| Drunk Shakespeare Houston, Texas at Emerald Theatre - Houston | 1/07/2024 17:00 | View Tickets |
| Drunk Shakespeare Houston, Texas at Emerald Theatre - Houston | 1/08/2024 19:30 | View Tickets |
| Drunk Shakespeare Houston, Texas at Emerald Theatre - Houston | 1/09/2024 19:30 | View Tickets |
| Drunk Shakespeare Houston, Texas at Emerald Theatre - Houston | 1/10/2024 19:30 | View Tickets |
| Drunk Shakespeare Houston, Texas at Emerald Theatre - Houston | 1/11/2024 19:30 | View Tickets |
| Drunk Shakespeare Houston, Texas at Emerald Theatre - Houston | 1/12/2024 19:00 | View Tickets |
| Drunk Shakespeare Houston, Texas at Emerald Theatre - Houston | 1/12/2024 21:00 | View Tickets |
| Drunk Shakespeare Houston, Texas at Emerald Theatre - Houston | 1/13/2024 17:00 | View Tickets |
| Drunk Shakespeare Houston, Texas at Emerald Theatre - Houston | 1/13/2024 19:00 | View Tickets |
| Drunk Shakespeare Houston, Texas at Emerald Theatre - Houston | 1/13/2024 21:00 | View Tickets |
| Drunk Shakespeare Houston, Texas at Emerald Theatre - Houston | 1/14/2024 17:00 | View Tickets |
| Drunk Shakespeare Houston, Texas at Emerald Theatre - Houston | 1/15/2024 19:30 | View Tickets |
| Drunk Shakespeare Houston, Texas at Emerald Theatre - Houston | 1/16/2024 19:30 | View Tickets |
| Drunk Shakespeare Houston, Texas at Emerald Theatre - Houston | 1/17/2024 19:30 | View Tickets |
| Drunk Shakespeare Houston, Texas at Emerald Theatre - Houston | 1/18/2024 19:30 | View Tickets |
| Drunk Shakespeare Houston, Texas at Emerald Theatre - Houston | 1/19/2024 19:00 | View Tickets |
| Drunk Shakespeare Houston, Texas at Emerald Theatre - Houston | 1/19/2024 21:00 | View Tickets |
| Drunk Shakespeare Houston, Texas at Emerald Theatre - Houston | 1/20/2024 17:00 | View Tickets |
| Drunk Shakespeare Houston, Texas at Emerald Theatre - Houston | 1/20/2024 19:00 | View Tickets |
| Drunk Shakespeare Houston, Texas at Emerald Theatre - Houston | 1/20/2024 21:00 | View Tickets |
| Drunk Shakespeare Houston, Texas at Emerald Theatre - Houston | 1/21/2024 17:00 | View Tickets |
| Drunk Shakespeare Houston, Texas at Emerald Theatre - Houston | 1/22/2024 19:30 | View Tickets |
| Drunk Shakespeare Houston, Texas at Emerald Theatre - Houston | 1/23/2024 19:30 | View Tickets |
| Drunk Shakespeare Houston, Texas at Emerald Theatre - Houston | 1/24/2024 19:30 | View Tickets |
| Drunk Shakespeare Houston, Texas at Emerald Theatre - Houston | 1/25/2024 19:30 | View Tickets |
| Drunk Shakespeare Houston, Texas at Emerald Theatre - Houston | 1/26/2024 19:00 | View Tickets |
| Drunk Shakespeare Houston, Texas at Emerald Theatre - Houston | 1/26/2024 21:00 | View Tickets |
| Drunk Shakespeare Houston, Texas at Emerald Theatre - Houston | 1/27/2024 17:00 | View Tickets |
| Drunk Shakespeare Houston, Texas at Emerald Theatre - Houston | 1/27/2024 19:00 | View Tickets |
| Drunk Shakespeare Houston, Texas at Emerald Theatre - Houston | 1/27/2024 21:00 | View Tickets |
| Drunk Shakespeare Houston, Texas at Emerald Theatre - Houston | 1/28/2024 17:00 | View Tickets |
| Drunk Shakespeare Houston, Texas at Emerald Theatre - Houston | 1/29/2024 19:30 | View Tickets |
| Drunk Shakespeare Houston, Texas at Emerald Theatre - Houston | 1/30/2024 19:30 | View Tickets |
| Drunk Shakespeare Houston, Texas at Emerald Theatre - Houston | 1/31/2024 19:30 | View Tickets |
| Drunk Shakespeare Houston, Texas at Emerald Theatre - Houston | 2/01/2024 19:30 | View Tickets |
| Drunk Shakespeare Houston, Texas at Emerald Theatre - Houston | 2/02/2024 19:00 | View Tickets |
| Drunk Shakespeare Houston, Texas at Emerald Theatre - Houston | 2/02/2024 21:00 | View Tickets |
| Drunk Shakespeare Houston, Texas at Emerald Theatre - Houston | 2/03/2024 17:00 | View Tickets |
| Drunk Shakespeare Houston, Texas at Emerald Theatre - Houston | 2/03/2024 19:00 | View Tickets |
| Drunk Shakespeare Houston, Texas at Emerald Theatre - Houston | 2/03/2024 21:00 | View Tickets |
| Drunk Shakespeare Houston, Texas at Emerald Theatre - Houston | 2/04/2024 17:00 | View Tickets |
| Drunk Shakespeare Houston, Texas at Emerald Theatre - Houston | 2/05/2024 19:30 | View Tickets |
| Drunk Shakespeare Houston, Texas at Emerald Theatre - Houston | 2/06/2024 19:30 | View Tickets |
| Drunk Shakespeare Houston, Texas at Emerald Theatre - Houston | 2/07/2024 19:30 | View Tickets |
| Drunk Shakespeare Houston, Texas at Emerald Theatre - Houston | 2/08/2024 19:30 | View Tickets |
| Drunk Shakespeare Houston, Texas at Emerald Theatre - Houston | 2/09/2024 19:00 | View Tickets |
| Drunk Shakespeare Houston, Texas at Emerald Theatre - Houston | 2/09/2024 21:00 | View Tickets |
| Drunk Shakespeare Houston, Texas at Emerald Theatre - Houston | 2/10/2024 17:00 | View Tickets |
| Drunk Shakespeare Houston, Texas at Emerald Theatre - Houston | 2/10/2024 19:00 | View Tickets |
| Drunk Shakespeare Houston, Texas at Emerald Theatre - Houston | 2/10/2024 21:00 | View Tickets |
| Drunk Shakespeare Houston, Texas at Emerald Theatre - Houston | 2/11/2024 17:00 | View Tickets |
| Drunk Shakespeare Houston, Texas at Emerald Theatre - Houston | 2/12/2024 19:30 | View Tickets |
| Drunk Shakespeare Houston, Texas at Emerald Theatre - Houston | 2/13/2024 19:30 | View Tickets |
| Drunk Shakespeare Houston, Texas at Emerald Theatre - Houston | 2/14/2024 19:30 | View Tickets |
| Drunk Shakespeare Houston, Texas at Emerald Theatre - Houston | 2/15/2024 19:30 | View Tickets |
| Drunk Shakespeare Houston, Texas at Emerald Theatre - Houston | 2/16/2024 19:00 | View Tickets |
| Drunk Shakespeare Houston, Texas at Emerald Theatre - Houston | 2/16/2024 21:00 | View Tickets |
| Drunk Shakespeare Houston, Texas at Emerald Theatre - Houston | 2/17/2024 17:00 | View Tickets |
| Drunk Shakespeare Houston, Texas at Emerald Theatre - Houston | 2/17/2024 19:00 | View Tickets |
| Drunk Shakespeare Houston, Texas at Emerald Theatre - Houston | 2/17/2024 21:00 | View Tickets |
| Drunk Shakespeare Houston, Texas at Emerald Theatre - Houston | 2/18/2024 17:00 | View Tickets |
| Drunk Shakespeare Houston, Texas at Emerald Theatre - Houston | 2/19/2024 19:30 | View Tickets |
| Drunk Shakespeare Houston, Texas at Emerald Theatre - Houston | 2/20/2024 19:30 | View Tickets |
| Drunk Shakespeare Houston, Texas at Emerald Theatre - Houston | 2/21/2024 19:30 | View Tickets |
| Drunk Shakespeare Houston, Texas at Emerald Theatre - Houston | 2/22/2024 19:30 | View Tickets |
| Drunk Shakespeare Houston, Texas at Emerald Theatre - Houston | 2/23/2024 19:00 | View Tickets |
| Drunk Shakespeare Houston, Texas at Emerald Theatre - Houston | 2/23/2024 21:00 | View Tickets |
| Drunk Shakespeare Houston, Texas at Emerald Theatre - Houston | 2/24/2024 17:00 | View Tickets |
| Drunk Shakespeare Houston, Texas at Emerald Theatre - Houston | 2/24/2024 19:00 | View Tickets |
| Drunk Shakespeare Houston, Texas at Emerald Theatre - Houston | 2/24/2024 21:00 | View Tickets |
| Drunk Shakespeare Houston, Texas at Emerald Theatre - Houston | 2/25/2024 17:00 | View Tickets |
| Drunk Shakespeare Houston, Texas at Emerald Theatre - Houston | 2/26/2024 19:30 | View Tickets |
| Drunk Shakespeare Houston, Texas at Emerald Theatre - Houston | 2/27/2024 19:30 | View Tickets |
| Drunk Shakespeare Houston, Texas at Emerald Theatre - Houston | 2/28/2024 19:30 | View Tickets |
| Drunk Shakespeare Houston, Texas at Emerald Theatre - Houston | 2/29/2024 19:30 | View Tickets |
| Drunk Shakespeare Houston, Texas at Emerald Theatre - Houston | 3/01/2024 19:00 | View Tickets |
| Drunk Shakespeare Houston, Texas at Emerald Theatre - Houston | 3/01/2024 21:00 | View Tickets |
| Drunk Shakespeare Houston, Texas at Emerald Theatre - Houston | 3/02/2024 17:00 | View Tickets |
| Drunk Shakespeare Houston, Texas at Emerald Theatre - Houston | 3/02/2024 19:00 | View Tickets |
| Drunk Shakespeare Houston, Texas at Emerald Theatre - Houston | 3/02/2024 21:00 | View Tickets |
| Drunk Shakespeare Houston, Texas at Emerald Theatre - Houston | 3/03/2024 17:00 | View Tickets |
| Drunk Shakespeare Houston, Texas at Emerald Theatre - Houston | 3/04/2024 19:30 | View Tickets |
| Drunk Shakespeare Houston, Texas at Emerald Theatre - Houston | 3/05/2024 19:30 | View Tickets |
| Drunk Shakespeare Houston, Texas at Emerald Theatre - Houston | 3/06/2024 19:30 | View Tickets |
| Drunk Shakespeare Houston, Texas at Emerald Theatre - Houston | 3/07/2024 19:30 | View Tickets |
| Drunk Shakespeare Houston, Texas at Emerald Theatre - Houston | 3/08/2024 19:00 | View Tickets |
| Drunk Shakespeare Houston, Texas at Emerald Theatre - Houston | 3/08/2024 21:00 | View Tickets |
| Drunk Shakespeare Houston, Texas at Emerald Theatre - Houston | 3/09/2024 17:00 | View Tickets |
| Drunk Shakespeare Houston, Texas at Emerald Theatre - Houston | 3/09/2024 19:00 | View Tickets |
| Drunk Shakespeare Houston, Texas at Emerald Theatre - Houston | 3/09/2024 21:00 | View Tickets |
| Drunk Shakespeare Houston, Texas at Emerald Theatre - Houston | 3/10/2024 17:00 | View Tickets |
| Drunk Shakespeare Houston, Texas at Emerald Theatre - Houston | 3/11/2024 19:30 | View Tickets |
| Drunk Shakespeare Houston, Texas at Emerald Theatre - Houston | 3/12/2024 19:30 | View Tickets |
| Drunk Shakespeare Houston, Texas at Emerald Theatre - Houston | 3/13/2024 19:30 | View Tickets |
| Drunk Shakespeare Houston, Texas at Emerald Theatre - Houston | 3/14/2024 19:30 | View Tickets |
| Drunk Shakespeare Houston, Texas at Emerald Theatre - Houston | 3/15/2024 19:00 | View Tickets |
| Drunk Shakespeare Houston, Texas at Emerald Theatre - Houston | 3/15/2024 21:00 | View Tickets |
| Drunk Shakespeare Houston, Texas at Emerald Theatre - Houston | 3/16/2024 17:00 | View Tickets |
| Drunk Shakespeare Houston, Texas at Emerald Theatre - Houston | 3/16/2024 19:00 | View Tickets |
| Drunk Shakespeare Houston, Texas at Emerald Theatre - Houston | 3/16/2024 21:00 | View Tickets |
| Drunk Shakespeare Houston, Texas at Emerald Theatre - Houston | 3/17/2024 17:00 | View Tickets |
| Drunk Shakespeare Houston, Texas at Emerald Theatre - Houston | 3/18/2024 19:30 | View Tickets |
| Drunk Shakespeare Houston, Texas at Emerald Theatre - Houston | 3/19/2024 19:30 | View Tickets |
| Drunk Shakespeare Houston, Texas at Emerald Theatre - Houston | 3/20/2024 19:30 | View Tickets |
| Drunk Shakespeare Houston, Texas at Emerald Theatre - Houston | 3/21/2024 19:30 | View Tickets |
| Drunk Shakespeare Houston, Texas at Emerald Theatre - Houston | 3/22/2024 19:00 | View Tickets |
| Drunk Shakespeare Houston, Texas at Emerald Theatre - Houston | 3/22/2024 21:00 | View Tickets |
| Drunk Shakespeare Houston, Texas at Emerald Theatre - Houston | 3/23/2024 17:00 | View Tickets |
| Drunk Shakespeare Houston, Texas at Emerald Theatre - Houston | 3/23/2024 19:00 | View Tickets |
| Drunk Shakespeare Houston, Texas at Emerald Theatre - Houston | 3/23/2024 21:00 | View Tickets |
| Drunk Shakespeare Houston, Texas at Emerald Theatre - Houston | 3/24/2024 17:00 | View Tickets |
| Drunk Shakespeare Houston, Texas at Emerald Theatre - Houston | 3/25/2024 19:30 | View Tickets |
| Drunk Shakespeare Houston, Texas at Emerald Theatre - Houston | 3/26/2024 19:30 | View Tickets |
| Drunk Shakespeare Houston, Texas at Emerald Theatre - Houston | 3/27/2024 19:30 | View Tickets |
| Drunk Shakespeare Houston, Texas at Emerald Theatre - Houston | 3/28/2024 19:30 | View Tickets |
| Drunk Shakespeare Houston, Texas at Emerald Theatre - Houston | 3/29/2024 19:00 | View Tickets |
| Drunk Shakespeare Houston, Texas at Emerald Theatre - Houston | 3/29/2024 21:00 | View Tickets |
| Drunk Shakespeare Houston, Texas at Emerald Theatre - Houston | 3/30/2024 17:00 | View Tickets |
| Drunk Shakespeare Houston, Texas at Emerald Theatre - Houston | 3/30/2024 19:00 | View Tickets |
| Drunk Shakespeare Houston, Texas at Emerald Theatre - Houston | 3/30/2024 21:00 | View Tickets |
| Drunk Shakespeare Houston, Texas at Emerald Theatre - Houston | 3/31/2024 17:00 | View Tickets |
| Drunk Shakespeare Houston, Texas at Emerald Theatre - Houston | 4/01/2024 19:30 | View Tickets |
| Drunk Shakespeare Houston, Texas at Emerald Theatre - Houston | 4/02/2024 19:30 | View Tickets |
| Drunk Shakespeare Houston, Texas at Emerald Theatre - Houston | 4/03/2024 19:30 | View Tickets |
| Drunk Shakespeare Houston, Texas at Emerald Theatre - Houston | 4/04/2024 19:30 | View Tickets |
| Drunk Shakespeare Houston, Texas at Emerald Theatre - Houston | 4/05/2024 19:00 | View Tickets |
| Drunk Shakespeare Houston, Texas at Emerald Theatre - Houston | 4/05/2024 21:00 | View Tickets |
| Drunk Shakespeare Houston, Texas at Emerald Theatre - Houston | 4/06/2024 17:00 | View Tickets |
| Drunk Shakespeare Houston, Texas at Emerald Theatre - Houston | 4/06/2024 19:00 | View Tickets |
| Drunk Shakespeare Houston, Texas at Emerald Theatre - Houston | 4/06/2024 21:00 | View Tickets |
| Drunk Shakespeare Houston, Texas at Emerald Theatre - Houston | 4/07/2024 17:00 | View Tickets |
| Drunk Shakespeare Houston, Texas at Emerald Theatre - Houston | 4/08/2024 19:30 | View Tickets |
| Drunk Shakespeare Houston, Texas at Emerald Theatre - Houston | 4/09/2024 19:30 | View Tickets |
| Drunk Shakespeare Houston, Texas at Emerald Theatre - Houston | 4/10/2024 19:30 | View Tickets |
| Drunk Shakespeare Houston, Texas at Emerald Theatre - Houston | 4/11/2024 19:30 | View Tickets |
| Drunk Shakespeare Houston, Texas at Emerald Theatre - Houston | 4/12/2024 19:00 | View Tickets |
| Drunk Shakespeare Houston, Texas at Emerald Theatre - Houston | 4/12/2024 21:00 | View Tickets |
| Drunk Shakespeare Houston, Texas at Emerald Theatre - Houston | 4/13/2024 17:00 | View Tickets |
| Drunk Shakespeare Houston, Texas at Emerald Theatre - Houston | 4/13/2024 19:00 | View Tickets |
| Drunk Shakespeare Houston, Texas at Emerald Theatre - Houston | 4/13/2024 21:00 | View Tickets |
| Drunk Shakespeare Houston, Texas at Emerald Theatre - Houston | 4/14/2024 17:00 | View Tickets |
| Drunk Shakespeare Houston, Texas at Emerald Theatre - Houston | 4/15/2024 19:30 | View Tickets |
| Drunk Shakespeare Houston, Texas at Emerald Theatre - Houston | 4/16/2024 19:30 | View Tickets |
| Drunk Shakespeare Houston, Texas at Emerald Theatre - Houston | 4/17/2024 19:30 | View Tickets |
| Drunk Shakespeare Houston, Texas at Emerald Theatre - Houston | 4/18/2024 19:30 | View Tickets |
| Drunk Shakespeare Houston, Texas at Emerald Theatre - Houston | 4/19/2024 19:00 | View Tickets |
| Drunk Shakespeare Houston, Texas at Emerald Theatre - Houston | 4/19/2024 21:00 | View Tickets |
| Drunk Shakespeare Houston, Texas at Emerald Theatre - Houston | 4/20/2024 17:00 | View Tickets |
| Drunk Shakespeare Houston, Texas at Emerald Theatre - Houston | 4/20/2024 19:00 | View Tickets |
| Drunk Shakespeare Houston, Texas at Emerald Theatre - Houston | 4/20/2024 21:00 | View Tickets |
| Drunk Shakespeare Houston, Texas at Emerald Theatre - Houston | 4/21/2024 17:00 | View Tickets |
| Drunk Shakespeare Houston, Texas at Emerald Theatre - Houston | 4/22/2024 19:30 | View Tickets |
| Drunk Shakespeare Houston, Texas at Emerald Theatre - Houston | 4/23/2024 19:30 | View Tickets |
| Drunk Shakespeare Houston, Texas at Emerald Theatre - Houston | 4/24/2024 19:30 | View Tickets |
| Drunk Shakespeare Houston, Texas at Emerald Theatre - Houston | 4/25/2024 19:30 | View Tickets |
| Drunk Shakespeare Houston, Texas at Emerald Theatre - Houston | 4/26/2024 19:00 | View Tickets |
| Drunk Shakespeare Houston, Texas at Emerald Theatre - Houston | 4/26/2024 21:00 | View Tickets |
| Drunk Shakespeare Houston, Texas at Emerald Theatre - Houston | 4/27/2024 17:00 | View Tickets |
| Drunk Shakespeare Houston, Texas at Emerald Theatre - Houston | 4/27/2024 19:00 | View Tickets |
| Drunk Shakespeare Houston, Texas at Emerald Theatre - Houston | 4/27/2024 21:00 | View Tickets |
| Drunk Shakespeare Houston, Texas at Emerald Theatre - Houston | 4/28/2024 17:00 | View Tickets |
| Drunk Shakespeare Houston, Texas at Emerald Theatre - Houston | 4/29/2024 19:30 | View Tickets |
| Drunk Shakespeare Houston, Texas at Emerald Theatre - Houston | 4/30/2024 19:30 | View Tickets |
| Drunk Shakespeare Houston, Texas at Emerald Theatre - Houston | 5/01/2024 19:30 | View Tickets |
| Drunk Shakespeare Houston, Texas at Emerald Theatre - Houston | 5/02/2024 19:30 | View Tickets |
| Drunk Shakespeare Houston, Texas at Emerald Theatre - Houston | 5/03/2024 19:00 | View Tickets |
| Drunk Shakespeare Houston, Texas at Emerald Theatre - Houston | 5/03/2024 21:00 | View Tickets |
| Drunk Shakespeare Houston, Texas at Emerald Theatre - Houston | 5/04/2024 17:00 | View Tickets |
| Drunk Shakespeare Houston, Texas at Emerald Theatre - Houston | 5/04/2024 19:00 | View Tickets |
| Drunk Shakespeare Houston, Texas at Emerald Theatre - Houston | 5/04/2024 21:00 | View Tickets |
| Drunk Shakespeare Houston, Texas at Emerald Theatre - Houston | 5/05/2024 17:00 | View Tickets |
| Drunk Shakespeare Houston, Texas at Emerald Theatre - Houston | 5/06/2024 19:30 | View Tickets |
| Drunk Shakespeare Houston, Texas at Emerald Theatre - Houston | 5/07/2024 19:30 | View Tickets |
| Drunk Shakespeare Houston, Texas at Emerald Theatre - Houston | 5/08/2024 19:30 | View Tickets |
| Drunk Shakespeare Houston, Texas at Emerald Theatre - Houston | 5/09/2024 19:30 | View Tickets |
| Drunk Shakespeare Houston, Texas at Emerald Theatre - Houston | 5/10/2024 19:00 | View Tickets |
| Drunk Shakespeare Houston, Texas at Emerald Theatre - Houston | 5/10/2024 21:00 | View Tickets |
| Drunk Shakespeare Houston, Texas at Emerald Theatre - Houston | 5/11/2024 17:00 | View Tickets |
| Drunk Shakespeare Houston, Texas at Emerald Theatre - Houston | 5/11/2024 19:00 | View Tickets |
| Drunk Shakespeare Houston, Texas at Emerald Theatre - Houston | 5/11/2024 21:00 | View Tickets |
| Drunk Shakespeare Houston, Texas at Emerald Theatre - Houston | 5/12/2024 17:00 | View Tickets |
| Drunk Shakespeare Houston, Texas at Emerald Theatre - Houston | 5/13/2024 19:30 | View Tickets |
| Drunk Shakespeare Houston, Texas at Emerald Theatre - Houston | 5/14/2024 19:30 | View Tickets |
| Drunk Shakespeare Houston, Texas at Emerald Theatre - Houston | 5/15/2024 19:30 | View Tickets |
| Drunk Shakespeare Houston, Texas at Emerald Theatre - Houston | 5/16/2024 19:30 | View Tickets |
| Drunk Shakespeare Houston, Texas at Emerald Theatre - Houston | 5/17/2024 19:00 | View Tickets |
| Drunk Shakespeare Houston, Texas at Emerald Theatre - Houston | 5/17/2024 21:00 | View Tickets |
| Drunk Shakespeare Houston, Texas at Emerald Theatre - Houston | 5/18/2024 17:00 | View Tickets |
| Drunk Shakespeare Houston, Texas at Emerald Theatre - Houston | 5/18/2024 19:00 | View Tickets |
| Drunk Shakespeare Houston, Texas at Emerald Theatre - Houston | 5/18/2024 21:00 | View Tickets |
| Drunk Shakespeare Houston, Texas at Emerald Theatre - Houston | 5/19/2024 17:00 | View Tickets |
| Drunk Shakespeare Houston, Texas at Emerald Theatre - Houston | 5/20/2024 19:30 | View Tickets |
| Drunk Shakespeare Houston, Texas at Emerald Theatre - Houston | 5/21/2024 19:30 | View Tickets |
| Drunk Shakespeare Houston, Texas at Emerald Theatre - Houston | 5/22/2024 19:30 | View Tickets |
| Drunk Shakespeare Houston, Texas at Emerald Theatre - Houston | 5/23/2024 19:30 | View Tickets |
| Drunk Shakespeare Houston, Texas at Emerald Theatre - Houston | 5/24/2024 19:00 | View Tickets |
| Drunk Shakespeare Houston, Texas at Emerald Theatre - Houston | 5/24/2024 21:00 | View Tickets |
| Drunk Shakespeare Houston, Texas at Emerald Theatre - Houston | 5/25/2024 17:00 | View Tickets |
| Drunk Shakespeare Houston, Texas at Emerald Theatre - Houston | 5/25/2024 19:00 | View Tickets |
| Drunk Shakespeare Houston, Texas at Emerald Theatre - Houston | 5/25/2024 21:00 | View Tickets |
| Drunk Shakespeare Houston, Texas at Emerald Theatre - Houston | 5/26/2024 17:00 | View Tickets |
| Drunk Shakespeare Houston, Texas at Emerald Theatre - Houston | 5/27/2024 19:30 | View Tickets |
| Drunk Shakespeare Houston, Texas at Emerald Theatre - Houston | 5/28/2024 19:30 | View Tickets |
| Drunk Shakespeare Houston, Texas at Emerald Theatre - Houston | 5/29/2024 19:30 | View Tickets |
| Drunk Shakespeare Houston, Texas at Emerald Theatre - Houston | 5/30/2024 19:30 | View Tickets |
| Drunk Shakespeare Houston, Texas at Emerald Theatre - Houston | 5/31/2024 19:00 | View Tickets |
| Drunk Shakespeare Houston, Texas at Emerald Theatre - Houston | 5/31/2024 21:00 | View Tickets |
| Drunk Shakespeare Houston, Texas at Emerald Theatre - Houston | 6/01/2024 17:00 | View Tickets |
| Drunk Shakespeare Houston, Texas at Emerald Theatre - Houston | 6/01/2024 19:00 | View Tickets |
| Drunk Shakespeare Houston, Texas at Emerald Theatre - Houston | 6/01/2024 21:00 | View Tickets |
| Drunk Shakespeare Houston, Texas at Emerald Theatre - Houston | 6/02/2024 17:00 | View Tickets |
| Drunk Shakespeare Houston, Texas at Emerald Theatre - Houston | 6/03/2024 19:30 | View Tickets |
| Drunk Shakespeare Houston, Texas at Emerald Theatre - Houston | 6/04/2024 19:30 | View Tickets |
| Drunk Shakespeare Houston, Texas at Emerald Theatre - Houston | 6/05/2024 19:30 | View Tickets |
| Drunk Shakespeare Houston, Texas at Emerald Theatre - Houston | 6/06/2024 19:30 | View Tickets |
| Drunk Shakespeare Houston, Texas at Emerald Theatre - Houston | 6/07/2024 19:00 | View Tickets |
| Drunk Shakespeare Houston, Texas at Emerald Theatre - Houston | 6/07/2024 21:00 | View Tickets |
| Drunk Shakespeare Houston, Texas at Emerald Theatre - Houston | 6/08/2024 17:00 | View Tickets |
| Drunk Shakespeare Houston, Texas at Emerald Theatre - Houston | 6/08/2024 19:00 | View Tickets |
| Drunk Shakespeare Houston, Texas at Emerald Theatre - Houston | 6/08/2024 21:00 | View Tickets |
| Drunk Shakespeare Houston, Texas at Emerald Theatre - Houston | 6/09/2024 17:00 | View Tickets |
| Drunk Shakespeare Houston, Texas at Emerald Theatre - Houston | 6/10/2024 19:30 | View Tickets |
| Drunk Shakespeare Houston, Texas at Emerald Theatre - Houston | 6/11/2024 19:30 | View Tickets |
| Drunk Shakespeare Houston, Texas at Emerald Theatre - Houston | 6/12/2024 19:30 | View Tickets |
| Drunk Shakespeare Houston, Texas at Emerald Theatre - Houston | 6/13/2024 19:30 | View Tickets |
| Drunk Shakespeare Houston, Texas at Emerald Theatre - Houston | 6/14/2024 19:00 | View Tickets |
| Drunk Shakespeare Houston, Texas at Emerald Theatre - Houston | 6/14/2024 21:00 | View Tickets |
| Drunk Shakespeare Houston, Texas at Emerald Theatre - Houston | 6/15/2024 17:00 | View Tickets |
| Drunk Shakespeare Houston, Texas at Emerald Theatre - Houston | 6/15/2024 19:00 | View Tickets |
| Drunk Shakespeare Houston, Texas at Emerald Theatre - Houston | 6/15/2024 21:00 | View Tickets |
| Drunk Shakespeare Houston, Texas at Emerald Theatre - Houston | 6/16/2024 17:00 | View Tickets |
| Drunk Shakespeare Houston, Texas at Emerald Theatre - Houston | 6/17/2024 19:30 | View Tickets |
| Drunk Shakespeare Houston, Texas at Emerald Theatre - Houston | 6/18/2024 19:30 | View Tickets |
| Drunk Shakespeare Houston, Texas at Emerald Theatre - Houston | 6/19/2024 19:30 | View Tickets |
| Drunk Shakespeare Houston, Texas at Emerald Theatre - Houston | 6/20/2024 19:30 | View Tickets |
| Drunk Shakespeare Houston, Texas at Emerald Theatre - Houston | 6/21/2024 19:00 | View Tickets |
| Drunk Shakespeare Houston, Texas at Emerald Theatre - Houston | 6/21/2024 21:00 | View Tickets |
| Drunk Shakespeare Houston, Texas at Emerald Theatre - Houston | 6/22/2024 17:00 | View Tickets |
| Drunk Shakespeare Houston, Texas at Emerald Theatre - Houston | 6/22/2024 19:00 | View Tickets |
| Drunk Shakespeare Houston, Texas at Emerald Theatre - Houston | 6/22/2024 21:00 | View Tickets |
| Drunk Shakespeare Houston, Texas at Emerald Theatre - Houston | 6/23/2024 17:00 | View Tickets |
| Drunk Shakespeare Houston, Texas at Emerald Theatre - Houston | 6/24/2024 19:30 | View Tickets |
| Drunk Shakespeare Houston, Texas at Emerald Theatre - Houston | 6/25/2024 19:30 | View Tickets |
| Drunk Shakespeare Houston, Texas at Emerald Theatre - Houston | 6/26/2024 19:30 | View Tickets |
| Drunk Shakespeare Houston, Texas at Emerald Theatre - Houston | 6/27/2024 19:30 | View Tickets |
| Drunk Shakespeare Houston, Texas at Emerald Theatre - Houston | 6/28/2024 19:00 | View Tickets |
| Drunk Shakespeare Houston, Texas at Emerald Theatre - Houston | 6/28/2024 21:00 | View Tickets |
| Drunk Shakespeare Houston, Texas at Emerald Theatre - Houston | 6/29/2024 17:00 | View Tickets |
| Drunk Shakespeare Houston, Texas at Emerald Theatre - Houston | 6/29/2024 19:00 | View Tickets |
| Drunk Shakespeare Houston, Texas at Emerald Theatre - Houston | 6/29/2024 21:00 | View Tickets |
| Drunk Shakespeare Houston, Texas at Emerald Theatre - Houston | 6/30/2024 17:00 | View Tickets |
| Drunk Shakespeare Houston, Texas at Emerald Theatre - Houston | 7/01/2024 19:30 | View Tickets |
| Drunk Shakespeare Houston, Texas at Emerald Theatre - Houston | 7/02/2024 19:30 | View Tickets |
| Drunk Shakespeare Houston, Texas at Emerald Theatre - Houston | 7/03/2024 19:30 | View Tickets |
| Drunk Shakespeare Houston, Texas at Emerald Theatre - Houston | 7/04/2024 19:30 | View Tickets |
| Drunk Shakespeare Houston, Texas at Emerald Theatre - Houston | 7/05/2024 19:00 | View Tickets |
| Drunk Shakespeare Houston, Texas at Emerald Theatre - Houston | 7/05/2024 21:00 | View Tickets |
| Drunk Shakespeare Houston, Texas at Emerald Theatre - Houston | 7/06/2024 17:00 | View Tickets |
| Drunk Shakespeare Houston, Texas at Emerald Theatre - Houston | 7/06/2024 19:00 | View Tickets |
| Drunk Shakespeare Houston, Texas at Emerald Theatre - Houston | 7/06/2024 21:00 | View Tickets |
| Drunk Shakespeare Houston, Texas at Emerald Theatre - Houston | 7/07/2024 17:00 | View Tickets |
| Drunk Shakespeare Houston, Texas at Emerald Theatre - Houston | 7/08/2024 19:30 | View Tickets |
| Drunk Shakespeare Houston, Texas at Emerald Theatre - Houston | 7/09/2024 19:30 | View Tickets |
| Drunk Shakespeare Houston, Texas at Emerald Theatre - Houston | 7/10/2024 19:30 | View Tickets |
| Drunk Shakespeare Houston, Texas at Emerald Theatre - Houston | 7/11/2024 19:30 | View Tickets |
| Drunk Shakespeare Houston, Texas at Emerald Theatre - Houston | 7/12/2024 19:00 | View Tickets |
| Drunk Shakespeare Houston, Texas at Emerald Theatre - Houston | 7/12/2024 21:00 | View Tickets |
| Drunk Shakespeare Houston, Texas at Emerald Theatre - Houston | 7/13/2024 17:00 | View Tickets |
| Drunk Shakespeare Houston, Texas at Emerald Theatre - Houston | 7/13/2024 19:00 | View Tickets |
| Drunk Shakespeare Houston, Texas at Emerald Theatre - Houston | 7/13/2024 21:00 | View Tickets |
| Drunk Shakespeare Houston, Texas at Emerald Theatre - Houston | 7/14/2024 17:00 | View Tickets |
| Drunk Shakespeare Houston, Texas at Emerald Theatre - Houston | 7/15/2024 19:30 | View Tickets |
| Drunk Shakespeare Houston, Texas at Emerald Theatre - Houston | 7/16/2024 19:30 | View Tickets |
| Drunk Shakespeare Houston, Texas at Emerald Theatre - Houston | 7/17/2024 19:30 | View Tickets |
| Drunk Shakespeare Houston, Texas at Emerald Theatre - Houston | 7/18/2024 19:30 | View Tickets |
| Drunk Shakespeare Houston, Texas at Emerald Theatre - Houston | 7/19/2024 19:00 | View Tickets |
| Drunk Shakespeare Houston, Texas at Emerald Theatre - Houston | 7/19/2024 21:00 | View Tickets |
| Drunk Shakespeare Houston, Texas at Emerald Theatre - Houston | 7/20/2024 17:00 | View Tickets |
| Drunk Shakespeare Houston, Texas at Emerald Theatre - Houston | 7/20/2024 19:00 | View Tickets |
| Drunk Shakespeare Houston, Texas at Emerald Theatre - Houston | 7/20/2024 21:00 | View Tickets |
| Drunk Shakespeare Houston, Texas at Emerald Theatre - Houston | 7/21/2024 17:00 | View Tickets |
| Drunk Shakespeare Houston, Texas at Emerald Theatre - Houston | 7/22/2024 19:30 | View Tickets |
| Drunk Shakespeare Houston, Texas at Emerald Theatre - Houston | 7/23/2024 19:30 | View Tickets |
| Drunk Shakespeare Houston, Texas at Emerald Theatre - Houston | 7/24/2024 19:30 | View Tickets |
| Drunk Shakespeare Houston, Texas at Emerald Theatre - Houston | 7/25/2024 19:30 | View Tickets |
| Drunk Shakespeare Houston, Texas at Emerald Theatre - Houston | 7/26/2024 19:00 | View Tickets |
| Drunk Shakespeare Houston, Texas at Emerald Theatre - Houston | 7/26/2024 21:00 | View Tickets |
| Drunk Shakespeare Houston, Texas at Emerald Theatre - Houston | 7/27/2024 17:00 | View Tickets |
| Drunk Shakespeare Houston, Texas at Emerald Theatre - Houston | 7/27/2024 19:00 | View Tickets |
| Drunk Shakespeare Houston, Texas at Emerald Theatre - Houston | 7/27/2024 21:00 | View Tickets |
| Drunk Shakespeare Houston, Texas at Emerald Theatre - Houston | 7/28/2024 17:00 | View Tickets |
| Drunk Shakespeare Houston, Texas at Emerald Theatre - Houston | 7/29/2024 19:30 | View Tickets |
| Drunk Shakespeare Houston, Texas at Emerald Theatre - Houston | 7/30/2024 19:30 | View Tickets |
| Drunk Shakespeare Houston, Texas at Emerald Theatre - Houston | 7/31/2024 19:30 | View Tickets |
| Drunk Shakespeare Houston, Texas at Emerald Theatre - Houston | 8/01/2024 19:30 | View Tickets |
| Drunk Shakespeare Houston, Texas at Emerald Theatre - Houston | 8/02/2024 19:00 | View Tickets |
| Drunk Shakespeare Houston, Texas at Emerald Theatre - Houston | 8/02/2024 21:00 | View Tickets |
| Drunk Shakespeare Houston, Texas at Emerald Theatre - Houston | 8/03/2024 17:00 | View Tickets |
| Drunk Shakespeare Houston, Texas at Emerald Theatre - Houston | 8/03/2024 19:00 | View Tickets |
| Drunk Shakespeare Houston, Texas at Emerald Theatre - Houston | 8/03/2024 21:00 | View Tickets |
| Drunk Shakespeare Houston, Texas at Emerald Theatre - Houston | 8/04/2024 17:00 | View Tickets |
| Drunk Shakespeare Houston, Texas at Emerald Theatre - Houston | 8/05/2024 19:30 | View Tickets |
| Drunk Shakespeare Houston, Texas at Emerald Theatre - Houston | 8/06/2024 19:30 | View Tickets |
| Drunk Shakespeare Houston, Texas at Emerald Theatre - Houston | 8/07/2024 19:30 | View Tickets |
| Drunk Shakespeare Houston, Texas at Emerald Theatre - Houston | 8/08/2024 19:30 | View Tickets |
| Drunk Shakespeare Houston, Texas at Emerald Theatre - Houston | 8/09/2024 19:00 | View Tickets |
| Drunk Shakespeare Houston, Texas at Emerald Theatre - Houston | 8/09/2024 21:00 | View Tickets |
| Drunk Shakespeare Houston, Texas at Emerald Theatre - Houston | 8/10/2024 17:00 | View Tickets |
| Drunk Shakespeare Houston, Texas at Emerald Theatre - Houston | 8/10/2024 19:00 | View Tickets |
| Drunk Shakespeare Houston, Texas at Emerald Theatre - Houston | 8/10/2024 21:00 | View Tickets |
| Drunk Shakespeare Houston, Texas at Emerald Theatre - Houston | 8/11/2024 17:00 | View Tickets |
| Drunk Shakespeare Houston, Texas at Emerald Theatre - Houston | 8/12/2024 19:30 | View Tickets |
| Drunk Shakespeare Houston, Texas at Emerald Theatre - Houston | 8/13/2024 19:30 | View Tickets |
| Drunk Shakespeare Houston, Texas at Emerald Theatre - Houston | 8/14/2024 19:30 | View Tickets |
| Drunk Shakespeare Houston, Texas at Emerald Theatre - Houston | 8/15/2024 19:30 | View Tickets |
| Drunk Shakespeare Houston, Texas at Emerald Theatre - Houston | 8/16/2024 19:00 | View Tickets |
| Drunk Shakespeare Houston, Texas at Emerald Theatre - Houston | 8/16/2024 21:00 | View Tickets |
| Drunk Shakespeare Houston, Texas at Emerald Theatre - Houston | 8/17/2024 17:00 | View Tickets |
| Drunk Shakespeare Houston, Texas at Emerald Theatre - Houston | 8/17/2024 19:00 | View Tickets |
| Drunk Shakespeare Houston, Texas at Emerald Theatre - Houston | 8/17/2024 21:00 | View Tickets |
| Drunk Shakespeare Houston, Texas at Emerald Theatre - Houston | 8/18/2024 17:00 | View Tickets |
| Drunk Shakespeare Houston, Texas at Emerald Theatre - Houston | 8/19/2024 19:30 | View Tickets |
| Drunk Shakespeare Houston, Texas at Emerald Theatre - Houston | 8/20/2024 19:30 | View Tickets |
| Drunk Shakespeare Houston, Texas at Emerald Theatre - Houston | 8/21/2024 19:30 | View Tickets |
| Drunk Shakespeare Houston, Texas at Emerald Theatre - Houston | 8/22/2024 19:30 | View Tickets |
| Drunk Shakespeare Houston, Texas at Emerald Theatre - Houston | 8/23/2024 19:00 | View Tickets |
| Drunk Shakespeare Houston, Texas at Emerald Theatre - Houston | 8/23/2024 21:00 | View Tickets |
| Drunk Shakespeare Houston, Texas at Emerald Theatre - Houston | 8/24/2024 17:00 | View Tickets |
| Drunk Shakespeare Houston, Texas at Emerald Theatre - Houston | 8/24/2024 19:00 | View Tickets |
| Drunk Shakespeare Houston, Texas at Emerald Theatre - Houston | 8/24/2024 21:00 | View Tickets |
| Drunk Shakespeare Houston, Texas at Emerald Theatre - Houston | 8/25/2024 17:00 | View Tickets |
| Drunk Shakespeare Houston, Texas at Emerald Theatre - Houston | 8/26/2024 19:30 | View Tickets |
| Drunk Shakespeare Houston, Texas at Emerald Theatre - Houston | 8/27/2024 19:30 | View Tickets |
| Drunk Shakespeare Houston, Texas at Emerald Theatre - Houston | 8/28/2024 19:30 | View Tickets |
| Drunk Shakespeare Houston, Texas at Emerald Theatre - Houston | 8/29/2024 19:30 | View Tickets |
| Drunk Shakespeare Houston, Texas at Emerald Theatre - Houston | 8/30/2024 19:00 | View Tickets |
| Drunk Shakespeare Houston, Texas at Emerald Theatre - Houston | 8/30/2024 21:00 | View Tickets |
| Drunk Shakespeare Houston, Texas at Emerald Theatre - Houston | 8/31/2024 17:00 | View Tickets |
| Drunk Shakespeare Houston, Texas at Emerald Theatre - Houston | 8/31/2024 19:00 | View Tickets |
| Drunk Shakespeare Houston, Texas at Emerald Theatre - Houston | 8/31/2024 21:00 | View Tickets |
| Drunk Shakespeare Houston, Texas at Emerald Theatre - Houston | 9/01/2024 17:00 | View Tickets |
| Drunk Shakespeare Houston, Texas at Emerald Theatre - Houston | 9/02/2024 19:30 | View Tickets |
| Drunk Shakespeare Houston, Texas at Emerald Theatre - Houston | 9/03/2024 19:30 | View Tickets |
| Drunk Shakespeare Houston, Texas at Emerald Theatre - Houston | 9/04/2024 19:30 | View Tickets |
| Drunk Shakespeare Houston, Texas at Emerald Theatre - Houston | 9/05/2024 19:30 | View Tickets |
| Drunk Shakespeare Houston, Texas at Emerald Theatre - Houston | 9/06/2024 19:00 | View Tickets |
| Drunk Shakespeare Houston, Texas at Emerald Theatre - Houston | 9/06/2024 21:00 | View Tickets |
| Drunk Shakespeare Houston, Texas at Emerald Theatre - Houston | 9/07/2024 17:00 | View Tickets |
| Drunk Shakespeare Houston, Texas at Emerald Theatre - Houston | 9/07/2024 19:00 | View Tickets |
| Drunk Shakespeare Houston, Texas at Emerald Theatre - Houston | 9/07/2024 21:00 | View Tickets |
| Drunk Shakespeare Houston, Texas at Emerald Theatre - Houston | 9/08/2024 17:00 | View Tickets |
| Drunk Shakespeare Houston, Texas at Emerald Theatre - Houston | 9/09/2024 19:30 | View Tickets |
| Drunk Shakespeare Houston, Texas at Emerald Theatre - Houston | 9/10/2024 19:30 | View Tickets |
| Drunk Shakespeare Houston, Texas at Emerald Theatre - Houston | 9/11/2024 19:30 | View Tickets |
| Drunk Shakespeare Houston, Texas at Emerald Theatre - Houston | 9/12/2024 19:30 | View Tickets |
| Drunk Shakespeare Houston, Texas at Emerald Theatre - Houston | 9/13/2024 19:00 | View Tickets |
| Drunk Shakespeare Houston, Texas at Emerald Theatre - Houston | 9/13/2024 21:00 | View Tickets |
| Drunk Shakespeare Houston, Texas at Emerald Theatre - Houston | 9/14/2024 17:00 | View Tickets |
| Drunk Shakespeare Houston, Texas at Emerald Theatre - Houston | 9/14/2024 19:00 | View Tickets |
| Drunk Shakespeare Houston, Texas at Emerald Theatre - Houston | 9/14/2024 21:00 | View Tickets |
| Drunk Shakespeare Houston, Texas at Emerald Theatre - Houston | 9/15/2024 17:00 | View Tickets |
| Drunk Shakespeare Houston, Texas at Emerald Theatre - Houston | 9/16/2024 19:30 | View Tickets |
| Drunk Shakespeare Houston, Texas at Emerald Theatre - Houston | 9/17/2024 19:30 | View Tickets |
| Drunk Shakespeare Houston, Texas at Emerald Theatre - Houston | 9/18/2024 19:30 | View Tickets |
| Drunk Shakespeare Houston, Texas at Emerald Theatre - Houston | 9/19/2024 19:30 | View Tickets |
| Drunk Shakespeare Houston, Texas at Emerald Theatre - Houston | 9/20/2024 19:00 | View Tickets |
| Drunk Shakespeare Houston, Texas at Emerald Theatre - Houston | 9/20/2024 21:00 | View Tickets |
| Drunk Shakespeare Houston, Texas at Emerald Theatre - Houston | 9/21/2024 17:00 | View Tickets |
| Drunk Shakespeare Houston, Texas at Emerald Theatre - Houston | 9/21/2024 19:00 | View Tickets |
| Drunk Shakespeare Houston, Texas at Emerald Theatre - Houston | 9/21/2024 21:00 | View Tickets |
| Drunk Shakespeare Houston, Texas at Emerald Theatre - Houston | 9/22/2024 17:00 | View Tickets |
| Drunk Shakespeare Houston, Texas at Emerald Theatre - Houston | 9/23/2024 19:30 | View Tickets |
| Drunk Shakespeare Houston, Texas at Emerald Theatre - Houston | 9/24/2024 19:30 | View Tickets |
| Drunk Shakespeare Houston, Texas at Emerald Theatre - Houston | 9/25/2024 19:30 | View Tickets |
| Drunk Shakespeare Houston, Texas at Emerald Theatre - Houston | 9/26/2024 19:30 | View Tickets |
| Drunk Shakespeare Houston, Texas at Emerald Theatre - Houston | 9/27/2024 19:00 | View Tickets |
| Drunk Shakespeare Houston, Texas at Emerald Theatre - Houston | 9/27/2024 21:00 | View Tickets |
| Drunk Shakespeare Houston, Texas at Emerald Theatre - Houston | 9/28/2024 17:00 | View Tickets |
| Drunk Shakespeare Houston, Texas at Emerald Theatre - Houston | 9/28/2024 19:00 | View Tickets |
| Drunk Shakespeare Houston, Texas at Emerald Theatre - Houston | 9/28/2024 21:00 | View Tickets |
| Drunk Shakespeare Houston, Texas at Emerald Theatre - Houston | 9/29/2024 17:00 | View Tickets |
| Drunk Shakespeare Houston, Texas at Emerald Theatre - Houston | 9/30/2024 19:30 | View Tickets |
| Drunk Shakespeare Houston, Texas at Emerald Theatre - Houston | 10/01/2024 19:30 | View Tickets |
| Drunk Shakespeare Houston, Texas at Emerald Theatre - Houston | 10/02/2024 19:30 | View Tickets |
| Drunk Shakespeare Houston, Texas at Emerald Theatre - Houston | 10/03/2024 19:30 | View Tickets |
| Drunk Shakespeare Houston, Texas at Emerald Theatre - Houston | 10/04/2024 19:00 | View Tickets |
| Drunk Shakespeare Houston, Texas at Emerald Theatre - Houston | 10/04/2024 21:00 | View Tickets |
| Drunk Shakespeare Houston, Texas at Emerald Theatre - Houston | 10/05/2024 17:00 | View Tickets |
| Drunk Shakespeare Houston, Texas at Emerald Theatre - Houston | 10/05/2024 19:00 | View Tickets |
| Drunk Shakespeare Houston, Texas at Emerald Theatre - Houston | 10/05/2024 21:00 | View Tickets |
| Drunk Shakespeare Houston, Texas at Emerald Theatre - Houston | 10/06/2024 17:00 | View Tickets |
| Drunk Shakespeare Houston, Texas at Emerald Theatre - Houston | 10/07/2024 19:30 | View Tickets |
| Drunk Shakespeare Houston, Texas at Emerald Theatre - Houston | 10/08/2024 19:30 | View Tickets |
| Drunk Shakespeare Houston, Texas at Emerald Theatre - Houston | 10/09/2024 19:30 | View Tickets |
| Drunk Shakespeare Houston, Texas at Emerald Theatre - Houston | 10/10/2024 19:30 | View Tickets |
| Drunk Shakespeare Houston, Texas at Emerald Theatre - Houston | 10/11/2024 19:00 | View Tickets |
| Drunk Shakespeare Houston, Texas at Emerald Theatre - Houston | 10/11/2024 21:00 | View Tickets |
| Drunk Shakespeare Houston, Texas at Emerald Theatre - Houston | 10/12/2024 17:00 | View Tickets |
| Drunk Shakespeare Houston, Texas at Emerald Theatre - Houston | 10/12/2024 19:00 | View Tickets |
| Drunk Shakespeare Houston, Texas at Emerald Theatre - Houston | 10/12/2024 21:00 | View Tickets |
| Drunk Shakespeare Houston, Texas at Emerald Theatre - Houston | 10/13/2024 17:00 | View Tickets |
| Drunk Shakespeare Houston, Texas at Emerald Theatre - Houston | 10/14/2024 19:30 | View Tickets |
| Drunk Shakespeare Houston, Texas at Emerald Theatre - Houston | 10/15/2024 19:30 | View Tickets |
| Drunk Shakespeare Houston, Texas at Emerald Theatre - Houston | 10/16/2024 19:30 | View Tickets |
| Drunk Shakespeare Houston, Texas at Emerald Theatre - Houston | 10/17/2024 19:30 | View Tickets |
| Drunk Shakespeare Houston, Texas at Emerald Theatre - Houston | 10/18/2024 19:00 | View Tickets |
| Drunk Shakespeare Houston, Texas at Emerald Theatre - Houston | 10/18/2024 21:00 | View Tickets |
| Drunk Shakespeare Houston, Texas at Emerald Theatre - Houston | 10/19/2024 17:00 | View Tickets |
| Drunk Shakespeare Houston, Texas at Emerald Theatre - Houston | 10/19/2024 19:00 | View Tickets |
| Drunk Shakespeare Houston, Texas at Emerald Theatre - Houston | 10/19/2024 21:00 | View Tickets |
| Drunk Shakespeare Houston, Texas at Emerald Theatre - Houston | 10/20/2024 17:00 | View Tickets |
| Drunk Shakespeare Houston, Texas at Emerald Theatre - Houston | 10/21/2024 19:30 | View Tickets |
| Drunk Shakespeare Houston, Texas at Emerald Theatre - Houston | 10/22/2024 19:30 | View Tickets |
| Drunk Shakespeare Houston, Texas at Emerald Theatre - Houston | 10/23/2024 19:30 | View Tickets |
| Drunk Shakespeare Houston, Texas at Emerald Theatre - Houston | 10/24/2024 19:30 | View Tickets |
| Drunk Shakespeare Houston, Texas at Emerald Theatre - Houston | 10/25/2024 19:00 | View Tickets |
| Drunk Shakespeare Houston, Texas at Emerald Theatre - Houston | 10/25/2024 21:00 | View Tickets |
| Drunk Shakespeare Houston, Texas at Emerald Theatre - Houston | 10/26/2024 17:00 | View Tickets |
| Drunk Shakespeare Houston, Texas at Emerald Theatre - Houston | 10/26/2024 19:00 | View Tickets |
| Drunk Shakespeare Houston, Texas at Emerald Theatre - Houston | 10/26/2024 21:00 | View Tickets |
| Drunk Shakespeare Houston, Texas at Emerald Theatre - Houston | 10/27/2024 17:00 | View Tickets |
| Drunk Shakespeare Houston, Texas at Emerald Theatre - Houston | 10/28/2024 19:30 | View Tickets |
| Drunk Shakespeare Houston, Texas at Emerald Theatre - Houston | 10/29/2024 19:30 | View Tickets |
| Drunk Shakespeare Houston, Texas at Emerald Theatre - Houston | 10/30/2024 19:30 | View Tickets |
| Drunk Shakespeare Houston, Texas at Emerald Theatre - Houston | 10/31/2024 19:30 | View Tickets |
| Drunk Shakespeare Houston, Texas at Emerald Theatre - Houston | 11/01/2024 19:00 | View Tickets |
| Drunk Shakespeare Houston, Texas at Emerald Theatre - Houston | 11/01/2024 21:00 | View Tickets |
| Drunk Shakespeare Houston, Texas at Emerald Theatre - Houston | 11/02/2024 17:00 | View Tickets |
| Drunk Shakespeare Houston, Texas at Emerald Theatre - Houston | 11/02/2024 19:00 | View Tickets |
| Drunk Shakespeare Houston, Texas at Emerald Theatre - Houston | 11/02/2024 21:00 | View Tickets |
| Drunk Shakespeare Houston, Texas at Emerald Theatre - Houston | 11/03/2024 17:00 | View Tickets |
| Drunk Shakespeare Houston, Texas at Emerald Theatre - Houston | 11/04/2024 19:30 | View Tickets |
| Drunk Shakespeare Houston, Texas at Emerald Theatre - Houston | 11/05/2024 19:30 | View Tickets |
| Drunk Shakespeare Houston, Texas at Emerald Theatre - Houston | 11/06/2024 19:30 | View Tickets |
| Drunk Shakespeare Houston, Texas at Emerald Theatre - Houston | 11/07/2024 19:30 | View Tickets |
| Drunk Shakespeare Houston, Texas at Emerald Theatre - Houston | 11/08/2024 19:00 | View Tickets |
| Drunk Shakespeare Houston, Texas at Emerald Theatre - Houston | 11/08/2024 21:00 | View Tickets |
| Drunk Shakespeare Houston, Texas at Emerald Theatre - Houston | 11/09/2024 17:00 | View Tickets |
| Drunk Shakespeare Houston, Texas at Emerald Theatre - Houston | 11/09/2024 19:00 | View Tickets |
| Drunk Shakespeare Houston, Texas at Emerald Theatre - Houston | 11/09/2024 21:00 | View Tickets |
| Drunk Shakespeare Houston, Texas at Emerald Theatre - Houston | 11/10/2024 17:00 | View Tickets |
| Drunk Shakespeare Houston, Texas at Emerald Theatre - Houston | 11/11/2024 19:30 | View Tickets |
| Drunk Shakespeare Houston, Texas at Emerald Theatre - Houston | 11/12/2024 19:30 | View Tickets |
| Drunk Shakespeare Houston, Texas at Emerald Theatre - Houston | 11/13/2024 19:30 | View Tickets |
| Drunk Shakespeare Houston, Texas at Emerald Theatre - Houston | 11/14/2024 19:30 | View Tickets |
| Drunk Shakespeare Houston, Texas at Emerald Theatre - Houston | 11/15/2024 19:00 | View Tickets |
| Drunk Shakespeare Houston, Texas at Emerald Theatre - Houston | 11/15/2024 21:00 | View Tickets |
| Drunk Shakespeare Houston, Texas at Emerald Theatre - Houston | 11/16/2024 17:00 | View Tickets |
| Drunk Shakespeare Houston, Texas at Emerald Theatre - Houston | 11/16/2024 19:00 | View Tickets |
| Drunk Shakespeare Houston, Texas at Emerald Theatre - Houston | 11/16/2024 21:00 | View Tickets |
| Drunk Shakespeare Houston, Texas at Emerald Theatre - Houston | 11/17/2024 17:00 | View Tickets |
| Drunk Shakespeare Houston, Texas at Emerald Theatre - Houston | 11/18/2024 19:30 | View Tickets |
| Drunk Shakespeare Houston, Texas at Emerald Theatre - Houston | 11/19/2024 19:30 | View Tickets |
| Drunk Shakespeare Houston, Texas at Emerald Theatre - Houston | 11/20/2024 19:30 | View Tickets |
| Drunk Shakespeare Houston, Texas at Emerald Theatre - Houston | 11/21/2024 19:30 | View Tickets |
| Drunk Shakespeare Houston, Texas at Emerald Theatre - Houston | 11/22/2024 19:00 | View Tickets |
| Drunk Shakespeare Houston, Texas at Emerald Theatre - Houston | 11/22/2024 21:00 | View Tickets |
| Drunk Shakespeare Houston, Texas at Emerald Theatre - Houston | 11/23/2024 17:00 | View Tickets |
| Drunk Shakespeare Houston, Texas at Emerald Theatre - Houston | 11/23/2024 19:00 | View Tickets |
| Drunk Shakespeare Houston, Texas at Emerald Theatre - Houston | 11/23/2024 21:00 | View Tickets |
| Drunk Shakespeare Houston, Texas at Emerald Theatre - Houston | 11/24/2024 17:00 | View Tickets |
| Drunk Shakespeare Houston, Texas at Emerald Theatre - Houston | 11/25/2024 19:30 | View Tickets |
| Drunk Shakespeare Houston, Texas at Emerald Theatre - Houston | 11/26/2024 19:30 | View Tickets |
| Drunk Shakespeare Houston, Texas at Emerald Theatre - Houston | 11/27/2024 19:30 | View Tickets |
| Drunk Shakespeare Houston, Texas at Emerald Theatre - Houston | 11/29/2024 19:00 | View Tickets |
| Drunk Shakespeare Houston, Texas at Emerald Theatre - Houston | 11/29/2024 21:00 | View Tickets |
| Drunk Shakespeare Houston, Texas at Emerald Theatre - Houston | 11/30/2024 17:00 | View Tickets |
| Drunk Shakespeare Houston, Texas at Emerald Theatre - Houston | 11/30/2024 19:00 | View Tickets |
| Drunk Shakespeare Houston, Texas at Emerald Theatre - Houston | 11/30/2024 21:00 | View Tickets |
| Drunk Shakespeare Houston, Texas at Emerald Theatre - Houston | 12/01/2024 17:00 | View Tickets |
| Drunk Shakespeare Houston, Texas at Emerald Theatre - Houston | 12/02/2024 19:30 | View Tickets |
| Drunk Shakespeare Houston, Texas at Emerald Theatre - Houston | 12/03/2024 19:30 | View Tickets |
| Drunk Shakespeare Houston, Texas at Emerald Theatre - Houston | 12/04/2024 19:30 | View Tickets |
| Drunk Shakespeare Houston, Texas at Emerald Theatre - Houston | 12/05/2024 19:30 | View Tickets |
| Drunk Shakespeare Houston, Texas at Emerald Theatre - Houston | 12/06/2024 19:00 | View Tickets |
| Drunk Shakespeare Houston, Texas at Emerald Theatre - Houston | 12/06/2024 21:00 | View Tickets |
| Drunk Shakespeare Houston, Texas at Emerald Theatre - Houston | 12/07/2024 17:00 | View Tickets |
| Drunk Shakespeare Houston, Texas at Emerald Theatre - Houston | 12/07/2024 19:00 | View Tickets |
| Drunk Shakespeare Houston, Texas at Emerald Theatre - Houston | 12/07/2024 21:00 | View Tickets |
| Drunk Shakespeare Houston, Texas at Emerald Theatre - Houston | 12/08/2024 17:00 | View Tickets |
| Drunk Shakespeare Houston, Texas at Emerald Theatre - Houston | 12/09/2024 19:30 | View Tickets |
| Drunk Shakespeare Houston, Texas at Emerald Theatre - Houston | 12/10/2024 19:30 | View Tickets |
| Drunk Shakespeare Houston, Texas at Emerald Theatre - Houston | 12/11/2024 19:30 | View Tickets |
| Drunk Shakespeare Houston, Texas at Emerald Theatre - Houston | 12/12/2024 19:30 | View Tickets |
| Drunk Shakespeare Houston, Texas at Emerald Theatre - Houston | 12/13/2024 19:00 | View Tickets |
| Drunk Shakespeare Houston, Texas at Emerald Theatre - Houston | 12/13/2024 21:00 | View Tickets |
| Drunk Shakespeare Houston, Texas at Emerald Theatre - Houston | 12/14/2024 17:00 | View Tickets |
| Drunk Shakespeare Houston, Texas at Emerald Theatre - Houston | 12/14/2024 19:00 | View Tickets |
| Drunk Shakespeare Houston, Texas at Emerald Theatre - Houston | 12/14/2024 21:00 | View Tickets |
| Drunk Shakespeare Houston, Texas at Emerald Theatre - Houston | 12/15/2024 17:00 | View Tickets |
| Drunk Shakespeare Houston, Texas at Emerald Theatre - Houston | 12/16/2024 19:30 | View Tickets |
| Drunk Shakespeare Houston, Texas at Emerald Theatre - Houston | 12/17/2024 19:30 | View Tickets |
| Drunk Shakespeare Houston, Texas at Emerald Theatre - Houston | 12/18/2024 19:30 | View Tickets |
| Drunk Shakespeare Houston, Texas at Emerald Theatre - Houston | 12/19/2024 19:30 | View Tickets |
| Drunk Shakespeare Houston, Texas at Emerald Theatre - Houston | 12/20/2024 19:00 | View Tickets |
| Drunk Shakespeare Houston, Texas at Emerald Theatre - Houston | 12/20/2024 21:00 | View Tickets |
| Drunk Shakespeare Houston, Texas at Emerald Theatre - Houston | 12/21/2024 17:00 | View Tickets |
| Drunk Shakespeare Houston, Texas at Emerald Theatre - Houston | 12/21/2024 19:00 | View Tickets |
| Drunk Shakespeare Houston, Texas at Emerald Theatre - Houston | 12/21/2024 21:00 | View Tickets |
| Drunk Shakespeare Houston, Texas at Emerald Theatre - Houston | 12/22/2024 17:00 | View Tickets |
| Drunk Shakespeare Houston, Texas at Emerald Theatre - Houston | 12/23/2024 19:30 | View Tickets |
| Drunk Shakespeare Houston, Texas at Emerald Theatre - Houston | 12/24/2024 19:30 | View Tickets |
| Drunk Shakespeare Houston, Texas at Emerald Theatre - Houston | 12/26/2024 19:30 | View Tickets |
| Drunk Shakespeare Houston, Texas at Emerald Theatre - Houston | 12/27/2024 19:00 | View Tickets |
| Drunk Shakespeare Houston, Texas at Emerald Theatre - Houston | 12/28/2024 17:00 | View Tickets |
| Drunk Shakespeare Houston, Texas at Emerald Theatre - Houston | 12/28/2024 19:00 | View Tickets |
| Drunk Shakespeare Houston, Texas at Emerald Theatre - Houston | 12/28/2024 21:00 | View Tickets |
| Drunk Shakespeare Houston, Texas at Emerald Theatre - Houston | 12/29/2024 17:00 | View Tickets |
| Drunk Shakespeare Houston, Texas at Emerald Theatre - Houston | 12/30/2024 19:00 | View Tickets |
| Drunk Shakespeare Houston, Texas at Emerald Theatre - Houston | 1/01/2025 19:00 | View Tickets |
Have you ever been to Drunk Shakespeare Houston live? If not as now's your chance. Drunk Shakespeare Houston is coming to Houston TX to perform. Just get these Drunk Shakespeare Houston tickets and see live performance. Many fans are buying cheap Drunk Shakespeare Houston tickets and there is no time to sit back and relax. Buy the tickets before they get sold out.

You are 100% safe buying from us because we give a full money-back guarantee. Our secure transaction service provides valid and authentic discount Drunk Shakespeare Houston tickets. And right on time too; if not as you get your money back.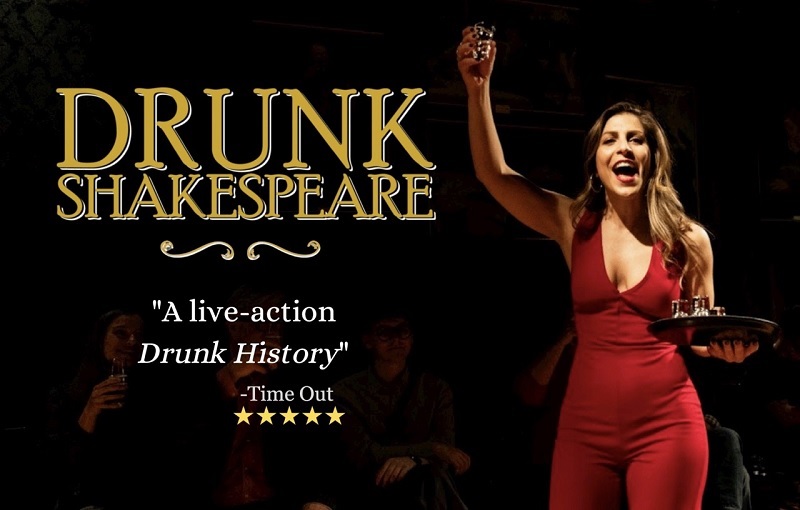 A Drunk Shakespeare Houston fan but low on money? That is no problem at all. We offer all fans as the Drunk Shakespeare Houston Discount Coupon. You can use this promo code "HOUSTON "to get an impressive 3% discount. So as book your Drunk Shakespeare Houston Tickets Cheap.
Drunk Shakespeare Highlights
Drunk Shakespeare is a riotous and unpredictable theatrical experience that combines the timeless works of William Shakespeare with the antics of a group of inebriated actors. Set in a hidden speakeasy in the heart of New York City, the show features five classically-trained performers who take turns downing shots of alcohol before attempting to stage a production of one of Bard's plays. As the night wears on and the drinks flow more freely, the actors become increasingly drunk, and the lines between the script and improv blur hilariously and unforgettably. With each performance being unique and different from the last, "Drunk Shakespeare" is a one-of-a-kind experience that promises to leave audiences in stitches and with a newfound appreciation for the timeless works of Shakespeare.
Drunk Shakespeare Emerald Theatre - Houston Tickets
Drunk Shakespeare is coming in Houston on 11/30/2023 19:30. Dont miss the show at Emerald Theatre - Houston Texas and get your cheap Drunk Shakespeare Houston tickets.

Emerald Theatre - Houston Address: 412 Travis Street Houston 77002 Texas
Minimum Price: $189.750000


Emerald Theatre - Houston Seating Map